SPARK Demo CRM system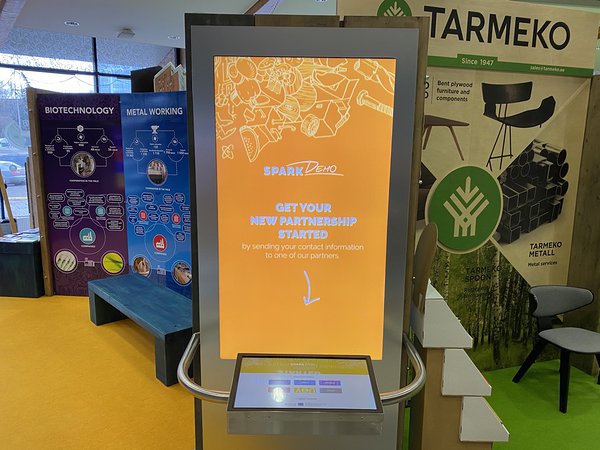 SPARK Demo is the business support structure for entrepreneurship in South Estonia, created in 2016 under the leadership of Tartu Science Park and with the support of the city of Tartu. The demo hall, located in the downtown area of Tartu brings together the most successful manufacturing companies, exporters, image-makers, employers, brightest startups and business support organisations in southern Estonia. SPARK Demo's desire is to bring different parties together to spark collaboration, new ideas and create new opportunities and solutions.
In 2019 we have hosted more than 6000 visitors from 46 different countries to whom we presented more than 40 companies and their awesome solutions from South- Estonia. We organised or co-organised more than 100 events (workshop, seminar, networking, etc.) for entrepreneurs. We are an active member of Tartu startup ecosystem providing support to different organisations and events such as sTARTUp Day and Tartu Entrepreneurship Week.
The feedback both from partners and visitors is very positive – thrilling, exciting, intimate, inspiring, comfortable, and inviting are just some examples of the kind of feedback we have received. In addition to the physical environment, the synergy generated between the various partners and business units and support structures plays a role in the positive atmosphere of the centre.

SPARK Demo CRM system
The current system does not allow tracking of contacts that originate from SPARK Demo rooms/ events. System is crated for the companys to get quick and easy contact. Query capability for the person visiting SPARK Demo center. Contact traceability for the SPARK Demo center and its staff
Project Activities:
Phase I of the project was finished in the middle of October 2019 when we finished the kiosk system and from then we will take 6 months to monitor the results in order to receive valuable input for the developing of phase II and III. Monitoring Phase I solutions will give us feedback on the query system itself as to how easy or hard is it to use and also how often and from kiosk or web is the query coming from.
I. The Creation of the query kiosk (Done) + web
a. Aim: Possibility to send querys II. Pipedrive overview (In que)
a. Aim: Total overview of the communication and results III. Improvements (In que)
a. Aim: Fix arising problems
Metrics:
• Google Analytics - Track the start of a contact from three locations (Kiosk, Web, QR)
• Pipedrive - Provides an overview of the interaction of the resulting contacts through autoresponder replies
• Newsletter - Allows you to add customers to your newsletter
The Goal:
• Better information management
• Possibility to market this as a service
• Value offer for SPARK Demo exhibitions
• Business development
• Widening contact network

Compiled by: Rasmus Haugasmägi, SPARK Demo. Tartu, January, 2020.
See related news