Regional Innovation Strategy - SmartLAB workshops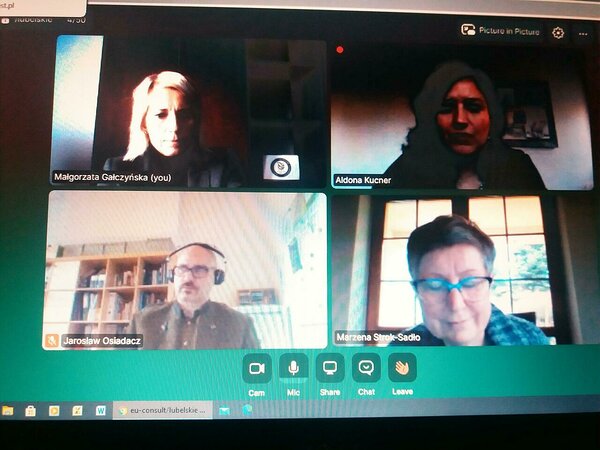 Activities related to updating the Regional Innovation Strategy are currently being implemented in the Lubelskie Voivodeship. These activities are part of the evaluation research entitled "Strategic directions of economic development of the Lubelskie Voivodeship in the context of the regional innovation strategy" conducted by the Marshal's Office of Lubelskie Voivodeship. Workshops were held on new materials in solar energy (including new generation materials increasing the efficiency and durability of photon ICT, December 17, 2020) and Green and white biotechnology - including meeting the demand for raw materials for the food, medical, chemical and energy industries, etc. new products: biofuels, biological building materials, biogenic plastics, bio-surfactants, etc. (December 21, 2020). The meetings were attended by Ms Małgorzata Gałczyńska from the Foundation for Lubelskie Development, Coordinator of the Lublin Eco-Energy Cluster and a partner in the EmpInno Monitor S3 project.
The aim of the evaluation research is to define strategic directions of economic development of the Lubelskie Voivodeship based on the scientific and technological, economic, educational and institutional potential in the context of updating the areas of smart specialization of the region. In addition, research is carried out in order to develop the Business Technology Roadmap for 7 selected directions of scientific and economic development of the Lubelskie Region.
During the meetings, Ms Małgorzata Gałczyńska suggested, among others, that when defining strategic directions of economic development, the opportunities related to the development of energy clusters should be taken into account, the aim of which is to achieve energy independence of gminas and poviats based on local renewable energy resources, the development of biogas and biomethane production and the development of a circular economy.
Compiled by: Małgorzata Gałczyńska, EmpInno Monitor S3 project coordinator/ specialist RIS3, the Foundation for Lubelskie Development, March 2021
See related news