Leader of Innovations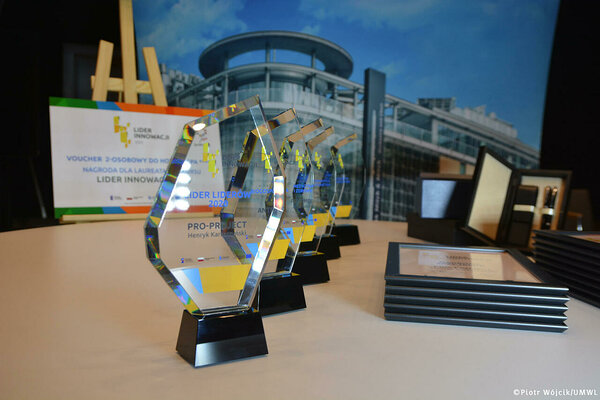 Leader of Innovations 2020 were chosen via online voting. Among the winners are micro, small and medium-sized enterprises. All the awarded are united by innovative solutions, effective use of EU support and establishment in the Poland Lublin region. It was the competition's 4th round.
"Leader of Innovations" is a contest of the best and the most innovative companies from Lubelskie Voivodeship. Contestants in a special way contributed to the development of the whole region through their innovative activities and products.
On October 29, 2020 during the conference summarizing the activities implemented by the Lublin Enterprise Support Agency (LESA) the results of the Innovation Leader competition were announced. The competition purpose is to promote innovative projects and modern solutions implemented thanks to the support from the Regional Operational Program of the Lubelskie Voivodeship for 2014 -2020.
The competition was organized as part of the European Funds Open Days. The awards were granted in four categories, in line with the smart specializations of the Lubelskie Voivodeship: bioeconomy, medicine and health, IT & automation and low-emission energy.
This year's formula of the competition has been changed. The final twelve were selected by the award committee and the selection of the finalists was determined by the following criteria: the company's impact on the recognition of the Voivodeship, the level of innovation and competitiveness and an increase in employment through the implementation of an EU project. Companies with traditions were additionally taken into account.
Also, four winners from four categories were selected solely by the Internet users, who had been invited to vote from 5 to 16 October via the Lublin European Funds Facebook profile. At the next stage, out of the seventeen Laureates of the 4th edition of the competition, the award committee chose the Laureate of the special prize - "Leader of Leaders 2020", which was received by Henryk Kartaszyński for the project PRO-PROJECT development.
The PRO-PROJECT development is about launching the production of the innovative Pro-CT mk II phantom for quality control of tomographic devices. Phantom Pro-CT mk II is used to control the quality of diagnostic devices used in computed tomography. Thanks to such products, Pro-Project provides life-changing solutions that improve quality in the medical device industry, giving patients and professionals the confidence of correct diagnostics. So, for example, it makes sure that a mammogram does not miss a small breast cancer.
The Pro-Project company is based in Okszów and is the only one in Poland that produces devices for testing, diagnostic equipment used in dentistry, radiography, fluoroscopy, angiography, mammography, computed tomography, magnetic resonance, nuclear medicine, ultrasonography and radiotherapy. The company is already a world tycoon. It is dynamically developing not only in the domestic market, but also in the international arena. This is evidenced by the obtained patents and an extensive distribution network in over 110 countries, as well as numerous awards for the conducted activity.
Compiled by: Katarzyna Kiszczak, Lubelskie Voivodeship, Nov 2020.
See related news