EmpInno bears fruit - Kaunas Science and Technology Park adapts "Breakfast of Innovators"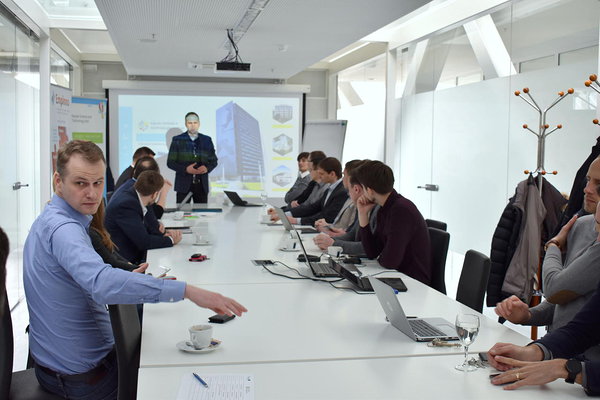 On 20th March 2018, Kaunas Science and Technology Park (Kaunas STP) launched the event "Breakfast of Innovators" in Kaunas, Lithuania, to support the exchange and cooperation between innovation actors, SMEs, start-ups and researchers. The concept is based on a good practice from Finland, where the EmpInno partner Prizztech Ltd. successfully initiated the Techno lunch "MatchIndustry LAB" in 2016 as a regular event. The aim is to connect all relevant stakeholders in specific economic sectors and RIS3 areas and to foster R+D transfer by providing a platform of innovative knowledge transfer.
The first "Breakfast of Innovators" in Kaunas was attended by 18 participants from 16 companies active in the Lithuanian energy sector, the Kaunas University of Technology and the Lithuanian Energy Institute. After an introduction by Kaunas STP, the largest Lithuanian energy company Lietuvos energija and its venture capital branch Contrarian Ventures presented technological solutions to current challenges of the energy sector and outlined relevant research fields. Furthermore, several SMEs and researchers took the chance for brief business presentations. As a first result of the platform, initiations of collaborations have been made between Lietuvos energija and two SMEs regarding the development of technological solutions.
In order to institutionalise the "Breakfast of Innovators" as a new platform of R&D transfer in the region not only for Energy related stakeholders, Kaunas STP is planning to continue the event also for other priority areas of RIS3. The next event already takes place at the end of April 2018. Focusing now on ICT, start-ups, SMEs and researchers will get the chance to meet both national and international most attractive employers in the ICT sector including NFQ Technologies, Intermedix and DevBridge.
Picture: Kaunas Science and Technology Park