12 start-ups designed their way to business development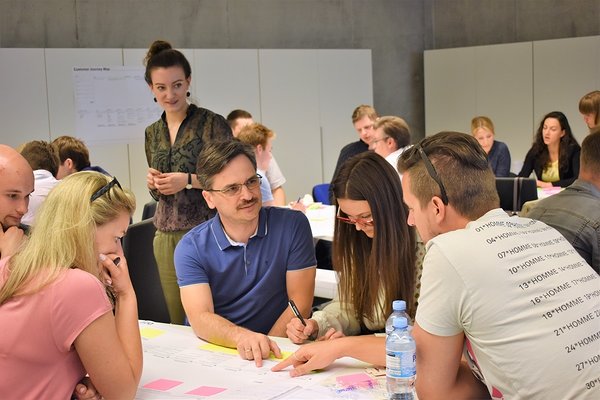 Idea cube, customer journey map and industry map were some of the tools presented for 12 start-ups in Kaunas on June 13th when they took part in an interactive workshop on designing their way to business development. Through the six hours workshop, walls and tables were gradually covered by colorful post-its, stuck to large printed tools on paper sheets. For many of the start-ups, working with design methods was a new experience, creating new and valuable insights into their own business and which options were the most interesting to proceed with on the journey towards becoming a sustainable business. Thomas Holst Madsen, Senior Design Consultant from D2i – Design to innovate, facilitated the journey through the different design tools and approaches to business development.
The workshop was organized as a co-working activity between two of the EmpInno partners, Kaunas Science and Technology Park, Lithuania, and D2i – Design to innovate, Denmark. D2i aims at implementing smart specialisation strategies on design in the Region of South Denmark by using design methods in creating growth in enterprises within all sectors. In Kaunas, methods used by D2i on local and regional companies in Denmark were tested for the first time on non-Danish ICT start-ups, giving D2i important knowledge and feedback on how their approach to implementing smart specialisation strategies works in different environments.
For both the Lithuanian and Danish partner, the collaboration on developing and conducting the workshop forms part of internationalising their activities by providing enterprises the possibility of getting in contact and cooperate with organisations and enterprises across borders.
If you want to know more about how design methods can be used to empower SMEs and start-ups to thrive and be more competitive please feel free to contact Kaunas Science Technology Park or D2i.

Picture: D2i - Design to innovate